Embracing Your Gifts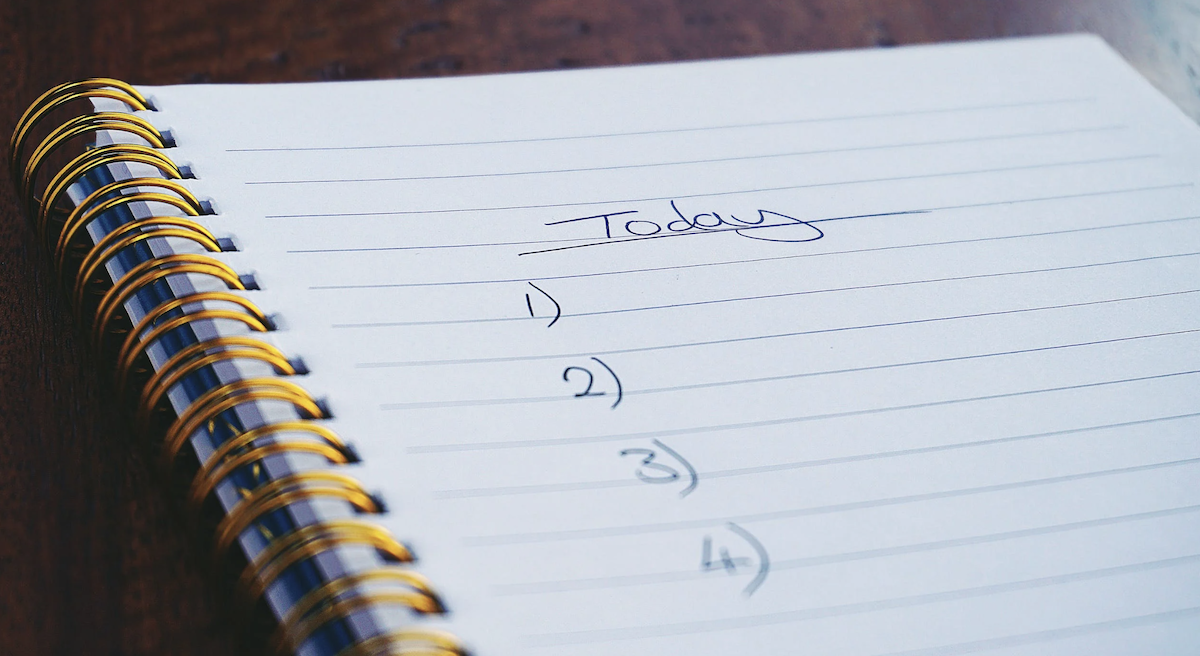 We all have our unique gifts — some are obvious and some less so. We also have "blind spots" or areas of weakness. When we take the time to evaluate both our strengths and weaknesses, we can uncover new ways to build habits that will support a sustainably healthy lifestyle. This article will guide you in through an exercise that will help you discover your unique gifts and opportunities yet to be seized.
The Goal
Before taking a deep dive into personal strengths and weaknesses, it's important to first know where you want to go. To do this, identify the goal (or goals) you want to achieve. Start by brainstorming a bulleted list (we can get to the specifics in another step). For example, your initial list may look like this:
This year, I want to:
Commit to improving my dietary habits
Exercise at least 3 times a week
Engage in a productive stress management process such as meditation
Explore a new craft or learn something new
Read a book
Your list may be shorter or longer, remember, it's your list and it will be unique to you and your desires.
After you create a general list of ideas, pair it down by prioritizing the top item you want to tackle first. To continue with the example, let's look at a goal related to the second item — exercising at least 3 times a week. Now, we need to define what this really means and what it will look like. To do this, use the SMART-ER goal-setting method. Take it step by step.
S: Specific — What do you want to focus on and achieve?
M: Measurable — How will you track your progress over time?
A: Attainable — What will you do to achieve your goal?
R: Relevant — How will you be/get better from achieving this goal?
T: Time — By when will you complete this goal?
ER: External Resources — What tools or resources will help support your progress?
If we use the example, it might look something like this:
I want to improve my energy levels in 15 weeks by exercising 3 days a week for 30 minutes each session. I will track my exercise using a weekly tracker sheet and meeting with my personal trainer. By accomplishing this goal, I will feel better and have more confidence and energy. The tools that will help me accomplish this include at-home workout apps, an accountability partner, and new workout shoes.
Now, this goal is written out clearly and specifically and allows for measurable tracking, and identifies an attainable timeline. These are all characteristics of a solid goal and action plan. Once the goal is identified, we can really dive into what obstacles might be in the way and what gifts we have that support the achievement of our desires.
The Personal SWOT Analysis
A SWOT analysis is a well-known framework used in the corporate world to identify the strengths and weaknesses of a business or company. Though it is common practice in business, it is equally valuable when viewed through a personal lens. An illustration of what a SWOT analysis looks like is below.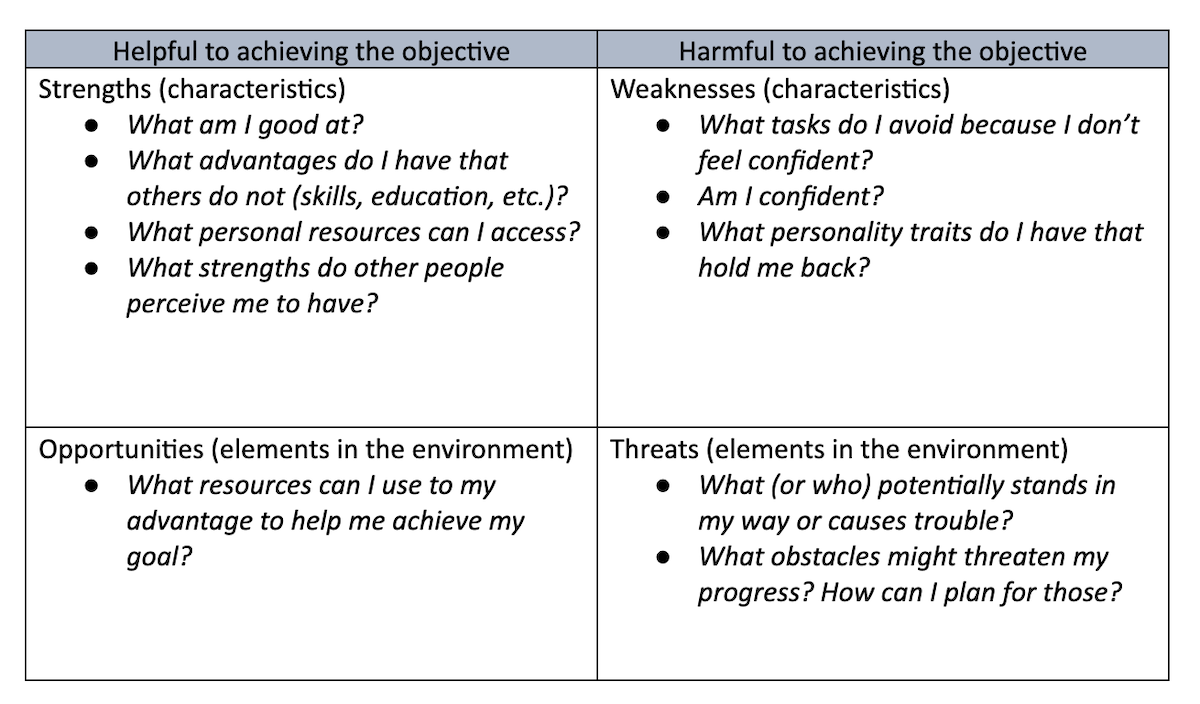 Engaging in a personal SWOT analysis will give you a clear picture of what strengths you have to draw from and what obstacles you will need to plan for. It will also help you acknowledge certain characteristics you possess that might require you to remain cognizant of while pursuing your goal. For example, you might discover that procrastination is a weakness, so you may devise a plan to lay out your workout clothes the night before and/or block out time in your calendar for physical activity.
Embracing Your Gifts
We are a mix of characteristics that support us and help us achieve and characteristics that challenge us. Both are necessary components of being a whole person. Once you know your gifts, commit to embracing them. Here are three reminders to help guide you.
Be Your Authentic Self.
Sink deeply and unapologetically into the realness of who you are — gifts and weaknesses included. Show up as your authentic self in all that you do. Don't hide from who you are.
Share and engage.
We all have talents that can benefit others and, vice versa. Be willing to share what you have to offer in a way that lifts others up.
Do the work.
Regularly reflect on how you spend your time and decide if you are using that time optimally and if it is serving you in the achievement of the goals you have for a healthy lifestyle.
We are complicated beings with unique gifts and talents to share, but sometimes we neglect to recognize the gifts we have because we are caught up in the day-to-day to-do lists, schedules, and demands. This month, take a pause and reflect on the gifts you have and how you can incorporate those into your life and become the best version of who you can be.
---
Dr. Erin Nitschke is a professor of exercise science at Laramie County Community College. She holds certifications including NFPT-CPT, NSCA-CPT, ACE Health Coach, Fitness Nutrition Specialist, Therapeutic Exercise Specialist, and Pn1. Erin is an editorial author for IDEA, NFPT, where she writes regularly on topics related to personal training and health coach skill building, behavior change, and career success.
More posts from our blog: