Creating A Sacred Table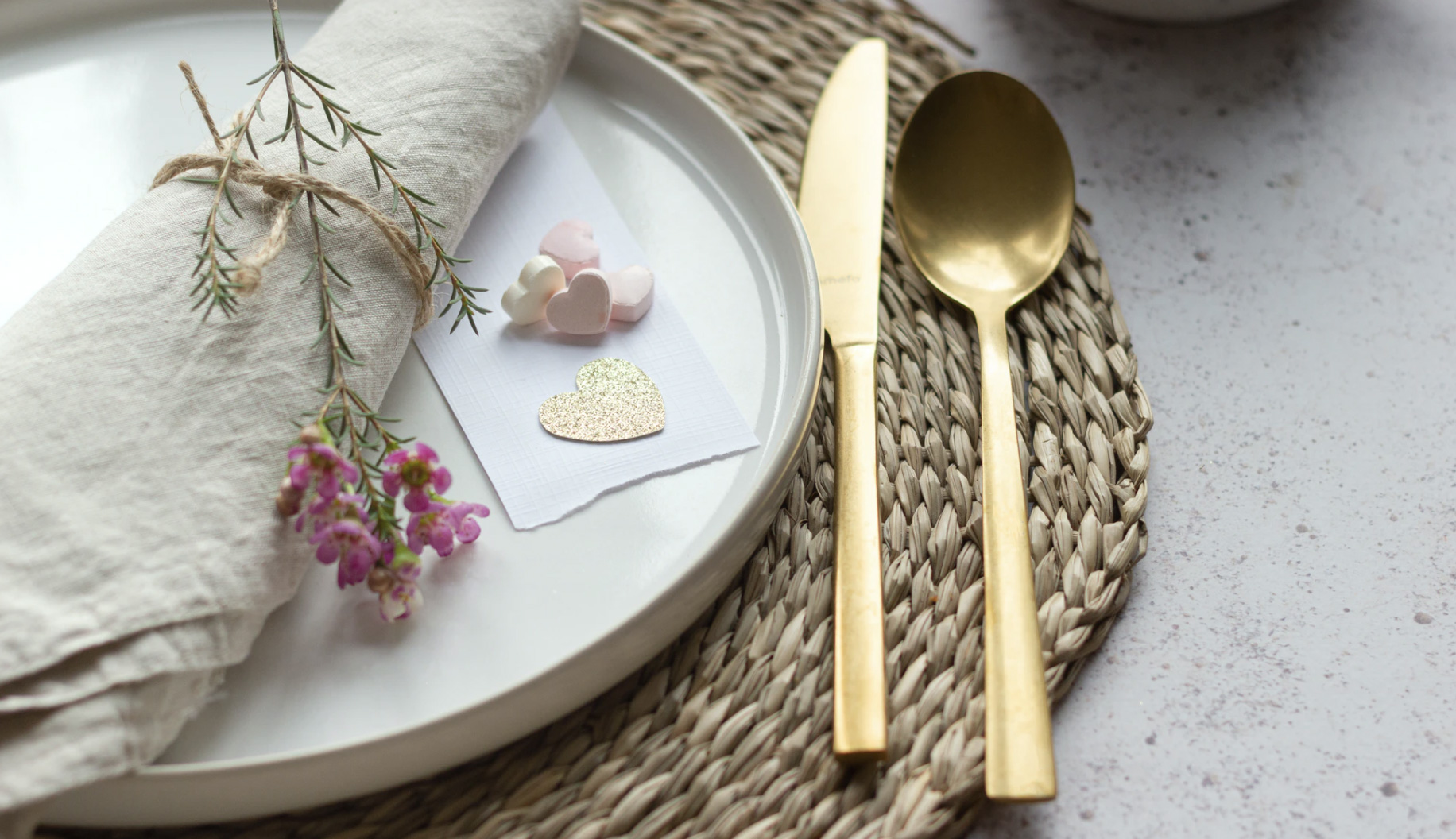 We spend so much time focusing on what we are eating, but the environment in which we eat is often ignored and yet it influences how well we are receiving our food. One of the most important healthy habits we can create to compliment our great nutritional intentions is to create a sacred table and eating environment.
A kitchen table or island can often be a catch-all! Leftover crumbs, unwashed place mats, empty glasses, jackets hanging on chairs, homework, keys, computers, cell phones, crafts, toys and paperwork. Can you relate? Especially during the pandemic when working from home and home-schooling have become part of our lives, our kitchen tables have been repurposed! Just the thought of it is stressful! What if we sit and eat next to that stress? It affects how we take in our food. We likely eat it more quickly and with less joy and pleasure, which can often make us feel less satisfied and satiated.
Nourishing your body can be one of the most pleasing, satisfying, health-promoting and enjoyable experiences but if your eating environment is noisy, cluttered, messy, distracting and looks a little like what is described above, then much of that nourishment is lost. It is not just about the food that we have to consider. It is how we accept, acknowledge and receive our food that can take our nutrition potential to a whole new level.
Creating a sacred table brings new energy, purpose, intention and love to the eating experience. When you eat at a beautiful table, the more relaxed, grateful, aware and connected you are and the more nourishment you receive from your food.

Eating is not merely a physical act. There is an incredible spiritual component to food and when you tap into that you receive the most out of your nutrition. The following are some examples of how you can create a sacred table and form new habits to optimize your eating experience.
Wash your table after each meal — adding a drop of lemon essential oil or fresh lemon to your cloth makes your table smell refreshed and cleansed
Get a new table cloth or take out one you have not used to add color and new energy
Set the table as if you were inviting guests over
Light a candle (s) while eating. This creates a warm and comforting environment
Play music in the background that invites calm and relaxation
Buy some fresh flowers weekly or keep a plant on your table to add color and vibrancy
Make your table a cell-phone free zone
If your table has become a workspace, tidy that area up by keeping your papers organized and turning off the computer when you are eating
Create a beautiful plate with lots of colors and vitality. The more pleasing your plate looks the more pleasure you will receive from your food.
Take deep breaths once you arrive at the table to invite slow and relaxed eating which will stimulate your digestive and metabolic efficiency.
Pausing for a moment of gratitude for your food or having a mantra such as "I believe this food will optimize my health, enhance my energy and vitality and nourish my body" is a great way to increase your nutrient absorption and set the intention for purposeful eating. The more you believe in the power of food and tell your body it will support your healing, wellness or weight loss goals, the more it will work for you.
Bring valuable conversation to the table. Ask each family member what was one thing they were grateful for or one success they had today. If you are eating with yourself or a partner, acknowledge your successes and gratitudes for the day
Eat slowly. Chew every bite, relish in the flavors, aroma and textures of the foods Stimulating the senses can release mood-elevating hormones
Sit and enjoy your meal. Avoid getting up from the table numerous times. If you have young children, let them know that you will only get up once you have finished your meal
Digest your food for a few minutes after a meal. Avoid getting up to clear the dishes while chewing your last bite. There is nothing more important in those few moments than to give your body the time to assimilate the nutrients.
Tap into how you feel after every meal. Are you satisfied, satiated, and free of cravings and do you have a sense of mental, emotional and physical well being? This brings mindfulness to your eating experience.
Most of us fail to eat when we actually eat but connecting with your food and creating a sacred table invites us to be present and provides us essential moments to come home to ourselves, to nourish, replenish and receive our food to the fullest.
---
Amy Bondar, Nutrition & Vitality Expert and Mind-Body Eating Coach helps you rediscover the joy of eating, while creating lasting improvements in your health, eating habits and weight. She is a trusted and compassionate expert whose nutritional wisdom and counseling techniques have helped people overcome health and weight issues for nearly two decades www.amybondar.com
More posts from our blog: